Suggestion regarding setting up Microsoft 365 to be able to send emails from individual email accounts when using iMail on the IBMi.
Purpose: This setup will allow the outgoing email from the iMail application to use the individuals MS365 email address as the FROM ADDRESS.
General Setup: The iMail Application's Configuration on the IBMi will have the connection values for the required parameters to connect and authenticate to Microsoft 365 (MS365). When the email package is created and sent using the iMail Application, iMail will connect to MS365 using the values in the iMail Configuration. MS365 will use the Mail Permissions settings (Send as Permissions) to relay the email to the recipient.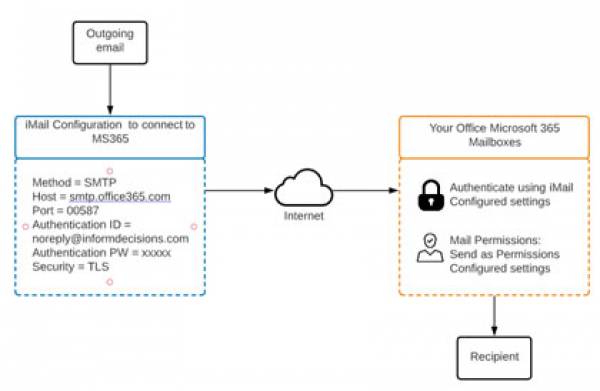 For Example…
If the FROM ADDRESS configured in the iMail Configuration to authenticate equals noreply@informdecisions.com, and the permissions in MS365 for Send as Permissions have been configured, then outgoing email can use the noreply@informdecisions.com email account as the FROM ADDRESS or the individual user's email account for example orlando@informdecisions.com. The recipient will receive the email with the FROM ADDRESS as the sender's email account.
Anticipated performance based on the example scenario…


Microsoft 365 instructions to configure permissions to use Send as Permissions
Quicksteps:
Open the Microsoft 365 admin center and go to Users > Active Users

Select the User, and in the flyout that appears, click on the Mail tab

In the Mailbox permissions section, click Send as permissions

Once in the Send as permissions section, click Add permissions

Select the email account used in the iMail Configuration used to authenticate
Helpful Note: Once you apply the permissions, the newly applied setting may propagate right away or sometimes take a little longer depending on Microsoft. Our experience has been that if it does not propagate right away, it typically takes about 10 to 60 minutes.
Link for instructions from Microsoft:
https://docs.microsoft.com/en-us/exchange/recipients-in-exchange-online/manage-permissions-for-recipients
Send As Permission Overview Description from Microsoft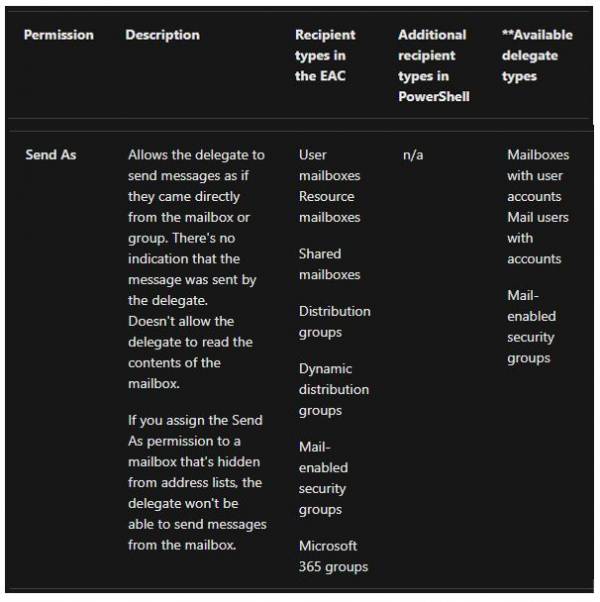 pub/ms3654settings.txt · Last modified: 2022/06/25 17:02 by 127.0.0.1
---