[ Up To Index ]
iMap 2.0 Revisions
this document is under construction.
Enhancements for iMap 2.0
Ability to save iMap projects (output) files into a consolidated file (*.imp)
With this enhancement, you can copy or send the "imp" file from one computer to another. iMap will still support sending the previous *fap form (with multiple output files) when you save or open your iSeries projects. You will simply notice two "Save iSeries project as" formats (*.fap and *.imp).
From the File menu, open the existing iMap project file (*.fap)

From the File menu, simply "Save iSeries project as" an (*.imp) format
This new format consolidates all the ouptut files normally generated with an *.fap format (*.fap, *.map, *.pcl, *.spf) into one file - an *.imp. This format can be emailed, or copied to any other PC and all associated files go with it.
iMap 2.0 eliminates the need to map the CHECK# field to upload a MICR Check Application
In previous versions, iMap required the user to map a Check number (Check#) field in order to upload a Laser Check application into iChecks on the IBM i. In version, 2.0 this has been eliminated. In iMap 2.0, the user can simply click the radio button for Check Application and this will indicate to iDocs on the IBM i, to make a Laser Check Application in Option 2 in iDocs. The same is true for a Form Application (which is defined as any application that does not require a MICR line or multiple bank account information).
See section on Defining laser MICR checks definecheck for more information about Setting up laser check printing applications.
After completing your data mapping for a laser MICR check, Click on "Upload Form Map" from menu File

Simple click either the Form or Check Application radio button, depending on what you're implementing
Note: If you have not defined the Check number (Check#) in iMap, you will need to map this field in iChecks on the IBM i in order to make a MICR line (see

definecheck

).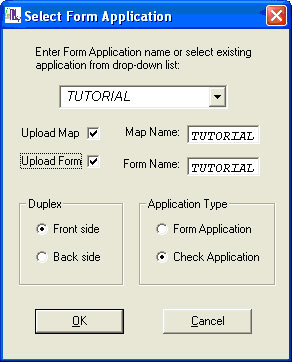 In iMap 2.0 the text mapping positions have been improved from previous version
In previous versions of iMap, data mapped on the PC would move slightly when uploaded to the IBM i.
There was some form shrinkage that has been eliminated in this version
In rare cases, sections of a form with map data would shrink. This problem appeared intermittently and with various 3rd party laser printers.
pub/imaprevisions.txt · Last modified: 2022/06/25 17:02 by 127.0.0.1
---